Subtle Functional Beauty for Greater Work Performance
Heavy load performance that supports powerful digging, excellent stability, and strong traction force. Steering performance that improves work efficiency in tight job site. All part of greater work performance.
Excellent Stability
We have carefully researched the center of gravity to maintain the weight balance between the front and rear, upper and lower, and left and right of the machine so that not only is excellent stability maintained.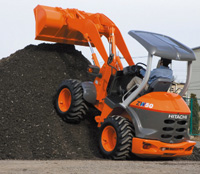 Great Dumping Clearance and Reach
Achieves ample dumping and reach. Dumping into a hopper or loading into an 11 t dump truck is possible due to the excellent stability.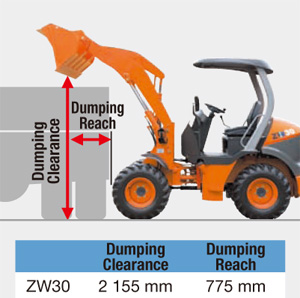 Small Turning Radius for Tight Spaces
In order to improve turning performance, such as the distance and position from the front axle to center pin and center pin to rear axle, great improvements have been made to this latest model. In this way, the Compact-wheel loader is now easier to use in town and city streets and other confined work spaces.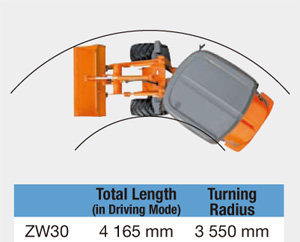 Note: The turning radius is the value of the outermost bucket.
Reinforced Mainframe
To reinforce the front and rear frames, a box-section structure has been introduced. This improves durability, which results in greater reliability.
Highly Original Large Counterweight
The use of a large counterweight lowers the center of gravity and protects the body, as well as improves stability.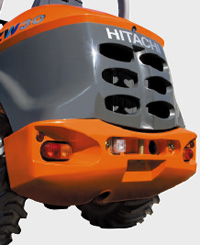 Easy-to-Use Towin Pin
By lowering the towin pin position, the troublesome need to raise loads by straining on a heavy wire rope has been eliminated, enabling much more stable towin performance.