Shantui SE330 Crawler Excavator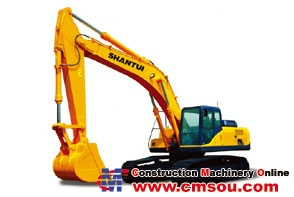 Shantui SE330 Crawler Excavator
The SE330 ramps up the power to our large-range of excavators. It offers an imported CUMMINS engine that provides a reliable and powerful plant. Shantui's body design makes maintenance convenient with easy access points.
• The SE330 model features imported hydraulic parts, negative flow and electronic controls. It is a highefficiency machine due to its state-of-the-art functions of boom confluence and diffluence, swing priority and flux regeneration.
• It is equipped with a 3rd-generation electrical control system and GPS. Like its smaller cousins, the SE330 includes many built-in extras such as data
transmission, long-distance diagnosis, and more.
• The new fully protective cabin is virtually punch-proof for greater operator safety.
• The wider and longer undercarriage noticeably improves digging stability and operating flexibility.
• Using best design practices, we apply a threedimensional and finite analysis to the working device, the frame and under carriage to ensure sure higher
standards of performance and reliability.
• Finally, the SE330's unique hydraulic system ensures smooth compound movement. It also has a multifunctional monitor, four working modes,
and two ways to control the throttle: by hand and electronically.
| MODEL | SE330 |
| --- | --- |
| Rated power (kW/rpm) | 186/2200 |
| Engine | Cummins 6C8.3 |
| Type | 6-cylinder inline |
| Quantity of cylinders | 6 |
| Bore/stroke | 114×134.9 |
| Displacement (L) | 8.3 |
| Cooling | Water-cooled |
| Air filter | Dry air filter |
| Fuel tank (L) | 600 |
| Throttle control | Manual-/electronic-controlled |
| Operating weight (kg) | 32900 |
| Bucket width (mm) | 1372 |
| Bucket capacity (m3) | 1.4 |
Send Inquiry
Note: 1) Please write in English 2) indicates required fields