Shantui SE70 Crawler Excavator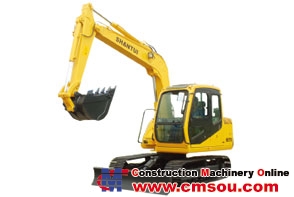 Shantui SE70 Crawler Excavator
• Original imported CUMMINS B3.3 series engine with Tier 2 emissions, conducive for energy saving and environmental protection; features radial seal air cleaner and air precleaner,effectively extending the engine's service life;equipped with standard fuel filling pump.
• Original imported hydraulic components, featuring stable and reliable quality, high work efficiency and big digging force.
• New type cab and seat, strengthened working devices,with up to 360°swing in small spaces with radius of up to 3.7m; strong adaptability in mining environments.
• Equipped with electronic control system: offering real time monitoring of the operating status of the machine, with self-diagnosis and recording functions, electronic control throttle, and choice of four kinds of operating modes.
• Blade and breaking pipe are standard equipment, making this a multifunctional machine for excavating, landfill,breaking and leveling.
• Multi-function GPS can handle remote monitoring and twoway data transmission, while showing real time operating status of the machine.
ITEM
UNIT
SE70
Rated power
kW/rpm
9/440
Engine
Cummins B3.3
Type
4 cylinders inline
Bore×stroke
mm
95×115
Displacement
L
3.3
Cooling
Water cooled
Air filter
Dry air filer
Fuel tank
L
170
Throttle control
Electric control
Operating weight
kg
7100
Bucket width
mm
804
Dozing capacity
m3
0.28
Send Inquiry
Note: 1) Please write in English 2) indicates required fields