Shantui SE130 Crawler Excavator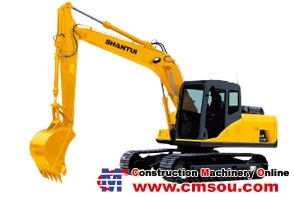 Shantui SE130 Crawler Excavator
• Original imported CUMMINS B3.9-C series engine, with Tier 2 emissions, conducive for energy saving and environmental protection; features radial seal air cleaner and air pre-cleaner, effectively extending the engine's service life; equipped with standard fuel filling pump.
• Designed for maintenance convenience, with a pressure transmitter, effectively improving fuel economy.
• Original imported hydraulic components, with stable and reliable quality, high working efficiency and big digging force, equipped with a standard pressure transmitter.
• New type cab and seat, new interior system, new type full automatic air conditioner system, which can automatically adjust air flow distribution, making it comfortable to operate.
• Equipped with new-generation electronic control system: big color LCD with real time monitoring of the operating status of the machine, also with self-diagnosis and recording functions, electronic control throttle, and several choices of operating modes.
• Many different buckets to choose from, as well as many kinds of accessories, such as blades, breaking hammer, ripper, electromagnetic chuck and quick hitch, etc, all of which can be selected to make it a multifunctional machine for such tasks as excavating, landfill, breaking and leveling and more。
• Multi-function GPS offers remote monitor and two-way data transmission, and a real time view of the operating status of the machine.
ITEM
UNIT
SE130
Rated power
kW/rpm
31/793
Engine
Cummins B3.9-C
Type
4 cylinders inline
Bore×stroke
mm
102×120
Displacement
L
3.9
Cooling
Water cooled
Air filter
Dry air filer
Fuel tank
L
238
Throttle control
Electric control
Operating weight
kg
12800
Bucket width
mm
980
Dozing capacity
m3
0.55
Send Inquiry
Note: 1) Please write in English 2) indicates required fields