Yutong YT3621 Mining Truck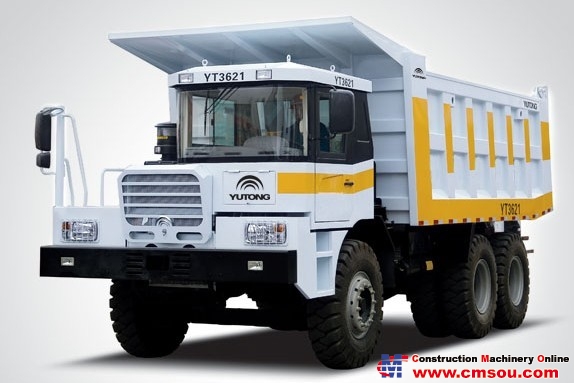 Yutong YT3621 Mining Truck
1. Advanced design concepts

This mining dumping truck is developed on the design concepts of construction machinery products, by utilizing the finite element analysis software and the powerful scientific research capacity of universities, and provided with a fully new welded frame structure having a large cross section, high strength and wide body. With a wide axle and a suspension system with an extra-wide span specially designed for heavy-duty working conditions, the vehicle stability is significantly enhanced in the driving operation, steering operation, the movement along a slope and also in the unloading operation.

2. Novel style and luxury inner trimmings

The vehicle looks magnificent and robust, showing a harmony between the power and aesthetic characteristics. Based on the leading cab design of Yutong Bus, the cab is tiltable, and resistant to any fall, with an open inside space and view, and the shock absorbing mechanism can create a very comfortable environment for the driver. Moreover, the first-class streamline instrument panel, instrument cluster and heating & cooling air conditioner made in China are installed to demonstrate the human-based design concepts.

3. Robust power

Weichai 12L and Yuchai high power engines, Fast transmission and dual-stage reduction axles are equipped to realize an easier move-up of the vehicle and a gradeability as high as 35% above, being more suitable for mine road conditions.

4. High trafficability

This product is developed according to design criteria for non-road machines, to adapt the ground clearance, longitudinal passing radius, approach angle and departure angle etc. to construction conditions of mines.

5. Reliable quality

The strict national military standard quality assurance system is established for batch production and assembly on the line, ensuring the conformity and reliability of each product.

6. Long service life

The frame for major structural components is provided with a welded box beam type structure. As for the cabin, the square tube is used as its bottom reinforced beam, and its side wall is added with side members. Furthermore, the cab adopts a skeleton structure. In such a way, the structural strength and anti-impact capacity of the frame, cabin and cab are improved, and under equal conditions, the useful life is at least twice of that of a tri-axle heavy-duty truck.

7. High safety level

The overall tread is 18% wider than that of a tri-axle heavy-duty truck, with improved comprehensive stability, being more suitable for high slopes in mining and non-road conditions. With a high bearing capacity, the density of vehicles in the pit is reduced, accompanied with improved driving safety.

8. Easy maintenance

Major parts can be ordered through the supporting system for heavy-duty trucks, and wearable parts are easily available to facilitate the servicing.

9. Quick service

This company provides one-station tracking service, namely, where our products are sold, and where our service will be offered.

10. Value-added return

Compared with the conventional mining truck of the same tonnage, the price of this product only accounts for its 1/3; while compared with the currently universal tri-axle heavy-duty truck, the rated bearing capacity of this product is at least 2.5 times of that of the tri-axle truck, an increased of 150%, under which the fuel consumption increase is limited to about 50%. Relative to the highway dumping truck, the return rate of investment is improved by at least 30%.
Send Inquiry
Note: 1) Please write in English 2) indicates required fields