Shantui SF60 Diesel Forklift Truck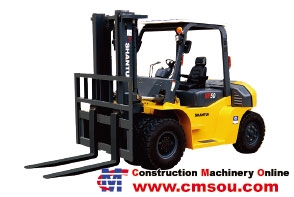 Shantui SF60 Diesel Forklift Truck
The real story, however, may be the relative speed with which Shantui built the forklift line into a mature product category virtually overnight. In a short four years, it already makes a wellrounded different models with several variations within each model category. The machines range in size from 1.5-ton to 10-ton. They come in both electric and diesel versions. As with other products new to the company's product offerings, Shantui provides the structural parts, while most of the other parts are bought from top brand name suppliers in China. The exception is the electronic controls, which are imported from Curtis in the USA. Several of the models are Tier III compliant, depending on engine or motor type. They all come with optional, optimal lift heights. Overall, the forklift line is another clear demonstration of Shantui's unrivaled value proposition: high performance for exceptional value.
The SF50, SF60 and SF70 are five-,six- and seven-ton lifters, respectively.
They are diesel powered.
The engine and frame are mounted thru the shock block to isolate shock and enhance driver comfort.
ITEM
Unit
SF60
General
Load capacity
kg
6000
Load center
mm
600
Power type
Diesel
Dimensions
Lift size
mm
3000
Free lift height
mm
195
Fork size
mm
1250×150×50
Mast tilt angle
deg
6/12
Fork overhang
mm
627
Overall dimensions
Full length
mm
3540
Full width
mm
1995
Height with mast not lifted
mm
2500
Height with mast lifted
mm
4420
Overhead guard height
mm
2450
Minimum turning radius
mm
3450
Minimum right angle passage width
mm
3090
Performance
Drive speed (full load/no load)
Hydraulic forklift truck
km/h
13/14
Mechanical forklift
Gear I
Gear II
Full-load lifting speed
mm/sec
450
Maximum gradeability
%
20
Curb weight
kg
8960
Tires
Front wheel
8.25-15-14PR
Rear wheel
8.25-15-14PR
Wheel & tires
Tread
Front wheel
mm
1470
Rear wheel
mm
1700
Wheelbase
mm
2250
Ground clearance (full load/no load)
Mast
mm
200
Frame
mm
200
Drive units & control
Engine
Applicable vehicle type
SF50/SF60/SF70
Model
6102BG
Rated power
kW/rpm
81/2500
Rated torque
N.m/rpm
353/1700
Number of cylinders
6
Cylinder bore/stroke
mm
102/118
Displacement
L
5.579
Transmissions
Type
Hydraulic
Gear position front/rear
2/2
Operating pressure
Mpa
20
Send Inquiry
Note: 1) Please write in English 2) indicates required fields