Lishide RM206 Road Roller Roller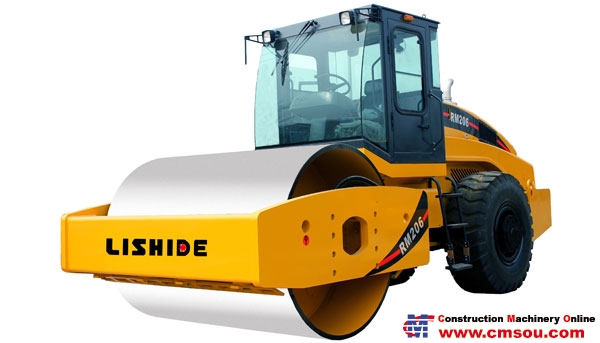 Lishide RM206 Road Roller Roller
1. The product is a hydraulic vibration, mechanic drive, single-drum vibratory road roller.
2. It can be equipped with various optional engines according to customer needs, such as Deutz engine, Weichai engine, Yuchai engine, and Shangchai engine.
3. It can be mounted with padfoot drum for the compaction operation of cohesive soil and road base of gravels. It can also avoid impact due to the smooth contact with ground.
4. The one-piece engine hood is convenient for maintenance; it covers the hydraulic tank, which looks neat and beautiful.
5. The foot brake system adopts pneumatic boosted hydraulic drive mechanism, which is quick and convenient to operate.
6. The air filter intake is at a high level, and it is connected with the muffler. The negative pressure from the muffler removes the dust in the air filter, which extends the maintenance interval and the engine life.

Technical Parameters
RM206
Engine/Model Engine power/revs(Km/min)

Weichai WD10G175E23 128/2000

Travel speed(km/h)
ⅠGear
0~2.3
ⅡGear
0~4.5
ⅢGear
0~9.5
Gradeability (%)
25
Operating weight (kg)
20600
Weight distributed on vibratory drum (kg)
10500
Weight distributed on driving drum (kg)
10100
Turning radius (external)(mm)
5900
Static pressure (N/cm)
440
Min. ground clearance (mm)
450
Dimension (Length ×Width ×Height)(mm)
6150×2370×3010
Vibration frequency (Hz)
30
Amplitude (mm)
1.8/1.2
Excitation force (kN)
360/240
Send Inquiry
Note: 1) Please write in English 2) indicates required fields