STRONG 933D Crawler Excavator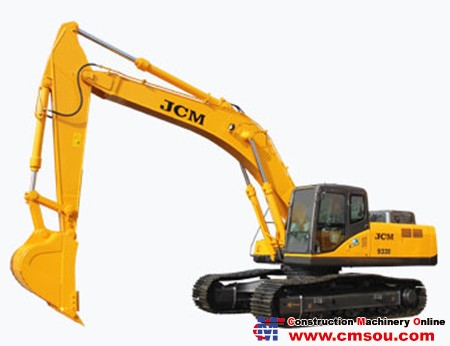 STRONG 933D Crawler Excavator
•933D is a large bulldozer product. It adopts originally imported Cummins C8.3 engine which features Tier 2 standards, energy saving, environmental care, and convenient service and maintenance;
•It adopts radial seal air filter with pre-filter, and large fuel pre-filter which effectively prolongs engine life, with fuel filling pump and pressure transmitter as standard device for higher fuel economy.
•It adopts originally imported hydraulic parts, which features stable and reliable quality, and high efficiency, large digging force and travel force;
•It adopts new type cab and seats, brand-new interior, and new air conditioning system with automatic adjustment function for comfortable operation;
•New generation electric control system: large color display capable of real time monitoring of machine operation condition, self-diagnosis and recording, electric throttle, and multiple work modes.
•The enhanced working devices and undercarriage, and heavy duty chassis are applicable to tough work conditions;
•Multiple kinds of buckets and optional parts like dozer blades, breakers, scarifiers, electromagnetic suction cups, quick couplers, etc. are available for digging, landfill, breaking, and grading operations.
•The multifunctional GPS can achieve remote control and data transfer so that the real time machine conditions can be known.
•Extra large tool case and fuel tank, centralized electric collocation;
•Box type frame side member, wide track gauge, long length on ground, with 600mm heavy track as standard device.
Engine

Model

Cummins 6C8.3(Tier2)

Type

Water cooling, 6-cylinder, in line, turbocharging

Power

186KW/2000rpm

Travel System

Travel Speed

2.95/5.04(km/h)

Traction

284KN

Gradeability

70%(35°)

Digging Force

Arm Length

3186mm

Bucket Digging Force

168.1KN

Arm Digging Force

142.8KN

Bucket

Bucket Capacity

1.4 - 1.6m3

Bucket Length

81372mm

Lubrication

Fuel Tank Capacity

600L

Cooling System

25.5L

Engine Oil

20L

Slewing System

Slewing Speed

10.5r/min

Rear Slew Radius

3438mm

Operating Weight & Ground Pressure

Operating Weight

32900Kg
Send Inquiry
Note: 1) Please write in English 2) indicates required fields