Shantui SG18-3 Motor Grader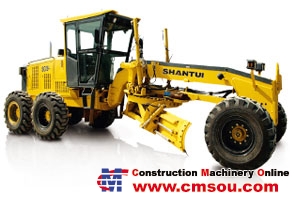 Shantui SG18-3 Motor Grader
Perhaps the chief selling point of these graders is the fact that the operator has extended visibility, and is even able to view all the working parts of the machine below.
This wider range of visibility contributes to the cost efficiency of the machine,getting work done more accurately and faster. And because Shantui is the nation's construction machinery leader in manufacturing, efficiency, quality and control,these machines come off the line at a very attractive price point.
Motor grader models include the SG16-3, SG18-3 and SG21-3. All are similar in characteristics, except for the graduated engine size and power ratings. The "3" stands for 3rd generation.
ITEM
SG18-3
Engine
Cummins 6BTAA5.9-C180
Rated power (kW/rpm)
3/50
Travel speed (km/h)
Forward 1
0–5.4
Forward 2
0–9.3
Forward 3
0–12.2
Forward 4
0–20.7
Forward 5
0–25.6
Forward 6
0–39.7
Reverse 1
0–5.4
Reverse 2
0-12.2
Reverse 3
0–25.6
Dimensions (L×W×H) (mm)
8960×2600×3400
Minimum turning radius (mm)
7800
Wheel base (mm)
2155
Gradeability (°)
20
Ma×imum traction (KN)
85.5
Ma×imum cutting depth (mm)
500
Operating weight (kg)
16200
Blade width (mm)
3360/3965
Blade height (mm)
635
Blade rotational angle (°)
360
Ma×imum lifting height (mm)
410
Blade cutting angle adjustment Range (°)
44–91
Min. ground clearance (mm)
430
Working hydraulic system pressure (MPa)
16
Brake System Pressure (MPa)
10
Send Inquiry
Note: 1) Please write in English 2) indicates required fields