DINGSHENG DT215 Rotary Drilling Rig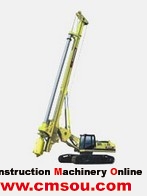 DINGSHENG DT215 Rotary Drilling Rig
Pile driving machinery is the construction machinery designed to drive piles into soil to provide foundation support for buildings or other structures. It is widely used in the construction of high-rise buildings, highways, airports, ports, docks, bridges, and more.

There are many types of pile driving equipment on the market. By working principles, rile driving machinery is divided into piling rigs, pressure piling machines, vibratory pile drivers, cast-in-place concrete pile rigs, etc. According to the power source of pile hammer, piling rigs include drop hammers, steam hammers, diesel hammers, hydraulic hammers etc. Pressure piling machines drive piles into the ground by means of static pressure, while vibratory pile drivers are used to drive short piles in sands and gravels through vibratory action. Cast-in-place concrete pile rigs eliminate the need for precast concrete piles, being applicable to site operation.

Dingsheng Tiangong Construction Machinery Company is a renowned pile driving machinery manufacturer in China. Our popular products include directional drills and rotary drilling rigs. These products are made by using advanced technology and superior raw materials. Hence, their quality is well ensured, and you can feel at ease using them.

To meet various needs of our customers, we constantly work to expand our product lines. Now we can also provide wheel loader, motor grader, road paver, soil mixer, etc.

DT215 Rotary Drilling Rig Specifications
| | | |
| --- | --- | --- |
| Items | Unit | Parameters |
| Max. output torque | kN.m | 150 |
| Drilling speed | r/min | 7-26 |
| Max. pressure | kN | 150 |
| Mast sideward inclination | ° | ±5 |
| Mast forward inclination | ° | 5 |
| Mast backward inclination | ° | 15 |
| Rated engine power | kW | 126 |
| Rated engine speed | rpm | 2000 |
| Main winch lifting force (first layer) | kN | 151 |
| Auxiliary winch lifting force (first layer) | kN | 48 |
| Max. drilling depth | m | 54 |
| Max. drilling diameter | mm | 1500 |
| Total weight (incl. standard drill stem) | t | 47 |
| Dimension during transport (L×W×H) | mm | 13055×3000×2895 |
Send Inquiry
Note: 1) Please write in English 2) indicates required fields